Speaker Presentations

Listen in as Michael Wohl explores factors that contribute to players migrating from social gaming to online gambling.
Revisiting the Reno Model

Dr. Alex Blaszczynski and Dr. Robert Ladouceur discuss this landmark framework a decade after it was published.
Poster Session

View summaries of the academic research presented at the inaugural poster session.

January 29, 2014
Day Three Wrap-Up and Closing Remarks
How time flies when you're having fun, networking, attending insightful speaker sessions and enjoying delicious meals with new colleagues! Today we conclude the 2014 New Horizons in Responsible Gambling conference...
January 28, 2014
Day One and Two Wrap-Up
What a start to the second annual New Horizons in Responsible Gambling conference! The conference kicked off Monday afternoon with a bonus workshop that provided pragmatic...
January 14, 2014
Go paperless with your New Horizons conference ticket!
At this year's conference we want to provide attendees with the option to go completely paperless during registration...
November 29, 2013
A Preview of the Pre-Conference Workshop: Energy Savings in Casinos
With the speakers and expert panel members confirmed, the pre-conference workshop is starting to fill up. Energy Conservation in Gambling Facilities is a workshop aimed...
November 20, 2013
Tweet Chat Details – Join The Conversation on November 28th!
The #HorizonsRG tweet chat on the topic of social gaming is fast approaching. It's taking place next Thursday...
October 30, 2013
#HorizonsRG: Join the Conversation
on Twitter
Social media provides our industry a medium to engage, converse and collaborate around responsible gambling topics. Organic dialogue generated through social media...
October 9, 2013
Offsetting Emissions from Speaker Travel at the 2014 New Horizons Conference
At last year's New Horizons in Responsible Gambling Conference we strived to implement initiatives to reduce our environmental footprint. We worked with...
September 19, 2013
Guest Blog – The loyal family: A brief look at brand image and gambling
Dr. Mark Griffiths is a Chartered Psychologist, Professor of Gambling Studies at the Nottingham Trent University in the U.K., and Director of the...
August 20, 2013
Introducing Poster Sessions at the 2014 New Horizons Conference
This year's New Horizons in Responsible Gambling conference will feature a new way to learn and interact directly with researchers and...
About the Conference
Bringing together the best and brightest each year for two days of presentations, discussion and professional development.
View 2014 Presentations
Missed out on a session at this year's New Horizons conference? Don't worry, you can listen to a recording of each presentation and view the slides.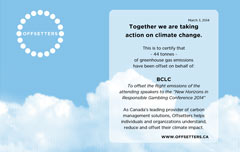 Offsetting Speaker Travel
We're excited to announce that emissions from all speaker flights at the 2014 New Horizons conference have been offset.